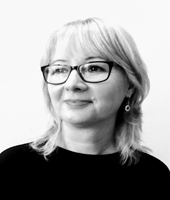 Associate Professor
Department of Social Sciences and Communication
Faculty of Sociology and Communication
Contact:
Eroilor 25, Brașov, Romania
Building T, Room TII9
Phone/Fax.: +40 268 474017
E-mail: codrina.csesznek@unitbv.ro
Research
interests:
sociology of communities and community development
qualitative research
visual sociology
Publications
(selection)
Csesznek, C., Schafft, K.A. (2021). Roma Youth and On-the-Ground Implementation of Roma Education Policies in Rural Romania. In: Kai A Schafft, Sanja Stanić, Renata Horvatek, Annie Maselli (eds.), Rural Youth at the Crossroads. Transitional Societies in Central Europe and Beyond. Routledge, Taylor & Francis Group, Chapter 9, pp. 176-194.
Sorea, D.; Csesznek C. (2020). The Groups of Caroling Lads from Făgăraș Land (Romania) as Niche Tourism Resource. Sustainability 12, 4577.
Csesznek, C., Cersosimo, G., Landolfi, L. (2020). New challenges for the elderly. A sociological reflection on socialization to ICT's as an opportunity in the time of the Covid-19. Romanian Journal of Sociology, new series, year XXXI, no. 1-2, pp. 49-58.
Csesznek, C., Scârneci-Domnișoru, F. (2019). Changes in working practices in a rural community of Romania. Visual Communication, Volume 18, Issue 2, pp. 189–204.
Csesznek, C. (2018). Identifying Solutions to Promote the Education of Children in Roma Communities. Bulletin of the Transilvania University of Brasov, Series VII: Social Sciences and Law, Vol. 11 (60), No. 1, pp. 85-96.