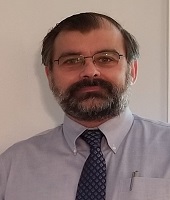 Senior Researcher
Research and Development Institute
Faculty of Medicine
Contact:
Eroilor no. 29, 500036, Brașov, România
E-mail: badeatc@unitbv.ro
Phone: 0734804352
Research interests:

Molecular Genetics,
Neuroscience - Visual System
Ophthalmology
Publications (selection):
Lees RN, Akbar AF, Badea TC (2020). "Retinal Ganglion Cell defects cause decision shifts in visually evoked defense responses". J. Neurophysiology, Epub 2020 Sept 30. doi:10.1152/jn.00474.2019
Muzyka, VV, Badea TC. (2021) Genetic Interplay Between Transcription Factor Pou4f1/Brn3a and Neurotrophin Receptor Ret In Retinal Ganglion Cell Type Specification. Neural Development vol 16: 5 September 21, & bioRxiv , no. (2020): 2020.03.23.004242. doi: 10.1101/2020.03.23.004242.
Sajgo S, Ghinia MG, Brooks M, Kretschmer F, Chuang K, Hiriyanna S, Wu Z, Popescu O, Badea T.C. Molecular codes for cell type specification in Brn3 retinal ganglion cells. Proc Natl Acad Sci U S A. 2017 May 16;114(20):E3974-E3983.
Chen S.K., Badea T. C. (co-corresponding author), Hattar S. (2011) Photoentrainment and pupillary light reflex are mediated by distinct populations of ipRGCs. Nature 476: 92-96, August 4
Badea T.C., Cahill H.C., Ecker J.L., Hattar S. and Nathans J. (2009) Distinct roles of transcription factors Brn3a and Brn3b in controlling the development, morphology, and function of retinal ganglion cells. Neuron 61: 852-864.