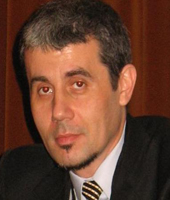 Associated member
Department of Mechanical Engineering
Faculty of Mechanical Engineering
Contact:
Politehnicii 1, Brașov, România
Building N, room NP2
Tel: +40 268 474 761
E-mail:silviu.nastac@unitbv.ro
Research
interests:
computational mechanics
acoustics and vibration
experimental techniques and virtual instrumentation
Publications
(selection)
Nastac, S., Nechita, P., Debeleac, C., et al. (2022). The acoustic performance of expanded perlite composites reinforced with rapeseed waste and natural polymers. Sustainability, 14 (1), art. no. 103, DOI: 10.3390/su14010103.
Nastac, S., Debeleac, C., Vlase, S. (2019). Hysteretically Symmetrical Evolution of Elastomers-Based Vibration Isolators within alpha-Fractional Nonlinear Computational Dynamics. SYMMETRY-BASEL Volume: 11 Issue: 7 Article Number: 924 DOI: 10.3390/sym11070924.
Nechita, P., Nastac, S. (2017). Foam-formed cellulose composite materials with potential applications in sound insulation. Journal of Composite Materials, Vol 52, Issue 6, pp. 747-754, First Published June 20, 2017, DOI: 10.1177/0021998317714639
Nastac, S. (2019). Analiza dinamică privind capabilitatea si performanta sistemelor de izolare a vibratiilor (Dynamic Analysis regarding the Capability and Performances of Vibration Isolation Systems). Editura Galati University Press, ISBN 978-606-696-154-7.
Nastac, S. (2008). Theoretical and Experimental Researches regarding the Dynamic Behavior of the Passive Vibration Isolation of Systems. Chapter 9 in Research Trends in Mechanics, vol. II, Eds.: Dinel P., Chiroiu V., Toma I., Editura Academiei Romane (Romanian Academy House Publishing), ISBN 978-973-27-1574-2, pp. 234-262.