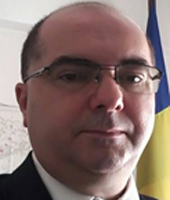 Associate professor
Department of Law
Faculty of Law
Contact:
Eroilor 25, Brașov, Romania
Building T, Room TI16
Phone/Fax: +372.902.454
E-mail:sg.barbu@unitbv.ro
CV
Research
interests:
Public law (constituțional law and drept constituțional and other related disciplines, administrative law other related disciplines)
juridical protection of human rights
criminal sciences
European law
comparative law
Publications
(selection):
Barbu, S.G., Șaramet, O., &Nițoiu L. G., (2015). Reglementarea constituțională a secretului corespondenței, ca drept fundamental din perspectiva unei viitoare revizuiri constituționale. In Curierul Judiciar nr. 10/2015.
Deaconu, Ș. (coordinator), Muraru, I., Tănăsescu, E. S., &Barbu, S. G., (2015). Codex constitutional, scurta prezentare a constituțiilor statelor membre ale UE. București: Monitorul Oficial Publishing House.
Barbu, S.G., Nițoiu, L. G., &Şaramet, O., (2017). The Obligation of the Authorities to Protect the Health of Prisoners from the Perspective of ECHR, In International conference multidisciplinary perspectives in the quasi-coercive treatment of offenders. The Sixth Edition, 11th May-12th May, 2017 Freiburg, Germany, Filodiritto Editore – Proceedings, ISBN 978-88-95922-99-7, First Edition.
Barbu, S.G., (2013). Notes and Proposals Regarding the Changes and Amendments to the Romanian Constitution. In South East European Journal of Political Science, vol. I no 2, Bucureşti, ISSN 2286-4547.
Barbu, S.G., &Comşa, M., (2013). Contencios administrativ și fiscal. Sinteză de jurisprudență. București: Hamangiu Publihing House, ISBN: 978-606-678-814-4.