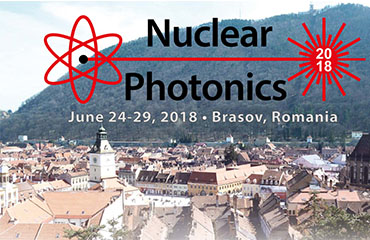 June 24 – 29, 2018, Brașov, Romania. Nuclear Photonics 2018 is the second edition of a biennial series devoted to the pursuit of nuclear science and applications with photons.
The conference is organized by 'Horia Hulubei' National Institute of Physics and Nuclear Engineering, Extreme Light Infrastructure –Nuclear Physics and Transilvania University of Brasov.
The focus of Nuclear Photonics 2018 will be on the following main topics:
fundamental nuclear science and spectroscopy, laser – plasma nuclear physics, high intensity laser – plasma interaction, nuclear medicine including radiography and radiotherapy, industrial non–destructive material imaging and evaluation, isotope – specific, nuclear materials detection and management, photon – based hadron beams and applications, photon–based production of rare isotopes, photon – enabled pulsed neutron generation and science, photon – enabled pulsed positron generation and science,nuclear astrophysics and cosmology, gamma – ray science above the giant dipole resonance, strong field QED.
The final program of the conference and the Book of Abstracts are posted on the conference web page http://nuclearphotonics2018.eli-np.ro