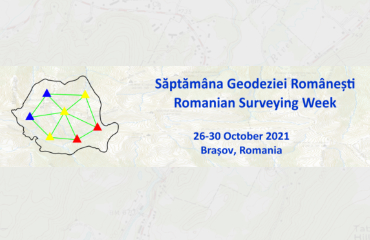 26-30 October 2021
It is our great pleasure to invite you to the 2nd edition of Romanian Surveying Week between 26 and 30 October 2021, hosted by the city of Brașov, Romania. This year, Romanian Surveying Week will be organized by Romanian Surveyors Union (UGR) in collaboration with Transilvania University of Brașov – Faculty of Silviculture and Forest Engineering.
The international conference "Smart surveying solutions for sustainable development" will be the central moment of the event and it will give the participants the opportunity to present papers, to debate and communicate in a professional and scientific manner, highlighting their own contribution, finding out smart technical solutions in order to protect, restore and promote sustainable use of terrestrial ecosystems in the modern and challenging transforming society. Special sessions dedicated to Young Surveyors will enjoy special focus and support from us.
The international conference accompanied by roundtables and forums, annual meetings and social activities organized within the programme of the Romanian Surveying Week in Brașov, will create the professional framework and environment for discussions, exchanging knowledge and experience among the surveyors participating to the international event and dealing with above topics in their daily activity.
In the technology expo, the sponsors and participants will present the latest technologies, posters and projects.
The participants have the opportunity to publish their presentations, including the posters, in English, full paper, after peer-review evaluation, as research article or short communication in the Bulletin of the Transilvania University of Brașov, Series I – Engineering Sciences (indexed in CROSSREF and EBSCO Publishing Database).
We are looking forward to welcoming you in Transylvania, in the heart or Romania, at Brasov, on the 26th of October 2021.
Find here more information about the event.