Gabriela
Bodin
|
"The
Pavilion"
-
Painting
Exhibition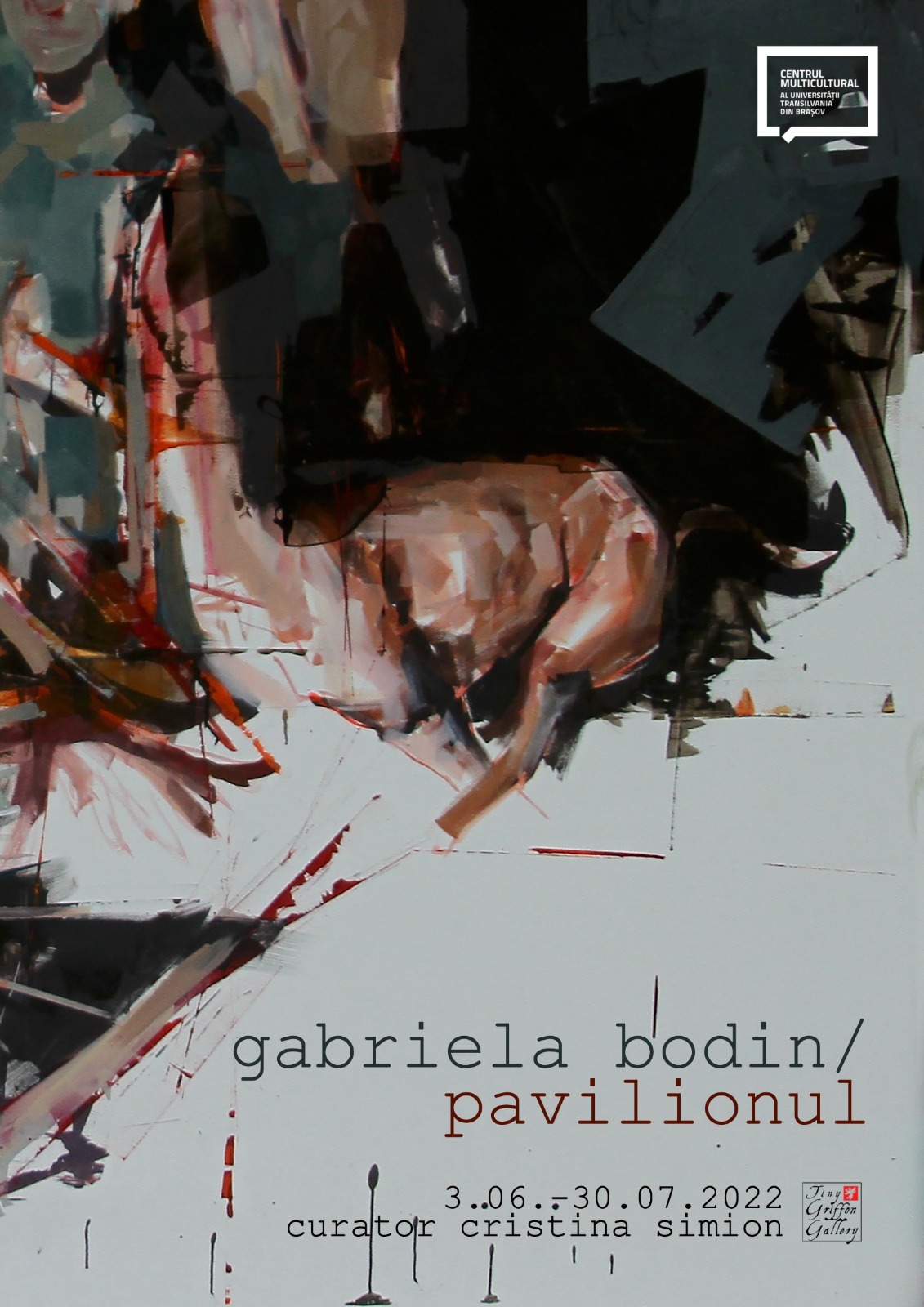 3 June-30 July
On Friday, 3 June, starting at 18.00, the Multicultural Centre of Transilvania University of Brașov will host the opening of the exhibition entitled The Pavilion, which belongs to the artist Gabriela Bodin. The author of the exhibition and the curator Cristina Simion will take the floor during this event.
In the opening, Anastasia Barbu will give a mini-recital of classical music. The programme features music pieces by Beethoven, Mozart and Scriabin.
An outstandingly strong artistic personality, Gabriela Bodin (who was born in the town of Focșani in 1983, and who lives and conducts her activity in Bergamo, Italy) returns to Romania, six years after two solo exhibitions in a single tour, in Bucharest, where she exhibited at ArCUB and Galateca.
"The Pavilion" is a visual metaphor that covers a few of the themes of Solzhenitsyn's well-known novel "The Cancer Ward", namely perpetual exile, gratuitous cruelty, the nature of power, moral responsibility, exhaustion, the price of conscience; however, without becoming in any way the epic illustration of the novel and without other references to the literary work. Gabriela Bodin's ability to avoid the imagistic and thematic cliché is reflected by figurative scenes in unexpected frames, in which children and animals also appear as figures characterized by the intensity of deliberately unclear emotions in their visual transposition, losing their innocence and contours, aspirated by the vortex of gothic colors." – as noted by Cristina Simion.
Gabriela Bodin is an internationally acclaimed artist, with numerous solo exhibitions in Italy, Great Britain, Germany, the United States, China, and she has been awarded prestigious prizes for painting. Her works can be found in many private collections, especially across Europe.
Personal exhibitions and recent participations in international art fairs (selection): Dynamite Art Fair (Brixton, London UK) 2022, New York Moniker art fair 2019, Fuori salone Mario Giusti HQ art gallery (Milano) 2019, Incarnato, Ghiggini 1822 art gallery (Varese) 2019, BAF Bergamo art fair 2019, Visioni contemporanee, ex Chiesa dell'Angelo (Lodi) 2018, COMBAT PRIZE Museo civico G. Fattori (Livorno) 2018, Animal Farm Mario Giusti HQ art gallery (Milano) 2017, Past Present Future 1963 Gallery London 2017, Arte Genova 2017, AAF Milano 2017, Arte Piacenza 2017, Quiet solo show, Galerie am Max Monument (München) 2017, Moniker Art Fair (London, UK) 2016, ARCHIVE - black cube concept, solo show Galeria Galateca (Bucharest) 2016, Retention ARCUB (București) 2016, St'Art fair (Strasbourg) 2015, Art without borders Living Art Gallery (Hungerford, UK), 2015, Vernice Art fair (Forlì), 2015, Menschen und Tiere, Tiny Griffon Gallery (Nürnberg), 2015, Lille Art Up 2015 (Lille), Gabriela Bodin, Prince & Princess Art Gallery (Paris), 2015.
Born in Brasov, Anastasia Maria Barbu was accepted to The Purcell School for Young Musicians; and, starting with September 2022, she will continue her studies in Scotland, at The Royal Conservatoire of Scotland. Anastasia has participated in many national and international competitions and recitals, covering a varied repertoire.
Partner: Tiny Griffon Gallery
The exhibition, which includes numerous works representative of the style that has made Gabriela Bodin world-renowned, can be visited at the Multicultural Center of the Transilvania University of Brașov, until 30 July 2022.
The entrance is free.