Several
interuniversity
collaboration
agreements
between
Romania
and
Cuba,
signed
at
UNITBV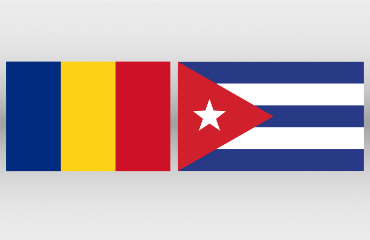 The first cooperation agreement between Romania and Cuba, after 1989, was signed, these days, by the Ministers of Education of the two countries, in the field of higher education. Based on this collaboration, 12 rectors from Cuba will sign partnership agreements with 13 Romanian universities. Half of them will be formalized in Brașov, on Thursday.
The Cuban Minister of Higher Education, Jose Ramon Saborido Loidi has been in Romania these days to sign the first collaboration agreement in the field of education, in the post-December period. This is a Cuban minister' first official visit to Romania, with the stated purpose of signing a document of collaboration between the two countries after the Revolution of December 1989.
The Cuban Minister came to Romania, together with 12 rectors from his country, who, based on the framework agreement signed at the level of the ministries of education in both countries, will conclude individual agreements with 13 Romanian universities. These include Transilvania University of Brașov, which will sign collaboration agreements with 5 universities of Cuba.
The 12 rectors will be present on Thursday, 9 June, in Brașov, where they will visit the University and formalize the collaboration relations between several higher-education institutions in Cuba and "1 Decembrie 1918" University of Alba Iulia, "Aurel Vlaicu" University of Arad, Transilvania University of Brașov, Petroleum-Gas University of Ploiești, "Lucian Blaga" University of Sibiu and "Ștefan cel Mare" University of Suceava.
These collaboration agreements open up new opportunities for both the academic teaching personnel and the students at the aforementioned Romanian and Cuban universities to complete their education within the various study programmes, or to develop activities in partnership, which is already materializing at Transilvania University of Brașov.
Frank Castro, a young Cuban, was admitted as a scholarship grantee of Transilvania University, to the Faculty of Physical Education and Mountain Sports, two years ago. He learned Romanian for a year, and now he is successfully finishing his first year as a student at our university. His performances are most praiseworthy – in addition to the medals won in athletics in his native country, Frank also stood out in Romania, where he was ranked on the podium at several marathon competitions.
Furthermore, three other young Cubans, winners in their turn of the scholarships offered by our University, will arrive at Transilvania University in Brașov, during the fall.
At present, Transilvania University of Brașov has over 600 partnerships with institutions from 84 countries around the world.