Over
4,000
places
financed
from
the
state
budget,
at
this
year's
admission
to
UNITBV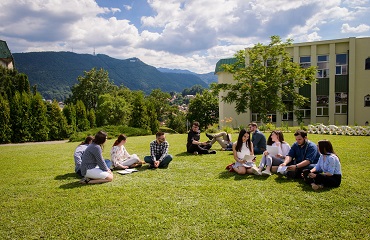 14 June 2022
Almost 10,500 places are available, in total, for this year's admission to Transilvania University of Brașov. Of these, more than 7,000 are at bachelor's degree study programmes, and about 3,500 are at master's degree programmes.
For the bachelor's degree, out of a total of 7,385 places, 2,752 are funded from the state budget, 3,089 are self-financed, and 1360 places are at distance learning and part-time education. For the master's degree, out of a total of 3,410 places, 1,323 are funded from the state budget, 1,918 are self-financed, and135 places are at part-time study programmes.
There are also special places for Roma candidates, for high school graduates located in rural areas, for people with disabilities and for Romanians everywhere.
As a novelty, this year, at Transilvania University of Brașov, there are 7 new study programmes – Digital Media,taught in English, at the Faculty of Sociology and Communication, Instrumental Music Performance, taught in English, at the Faculty of Music, and Entrepreneurship in Materials Engineering at the Faculty of Materials Science and Engineering. There are new study programmes for the master's degree as well: Command and Control Systems for Motor Vehicles, at the Faculty of Mechanical Engineering, Integrated Environment Management, at the Faculty of Product Design and Environment, Industrial Business Management and Entrepreneurship, at the Faculty of Technological Engineering and Industrial Management, and Studies of French Language and Culture, at the Faculty of Letters
For 14 faculties, the admission will take place based on a competition of files, where the baccalaureate grades will be taken into account. The admission to the Faculty of Medicine will be based on a written exam, whereas to the Faculties of Music, of Physical Education and Mountain Sports, and of Psychology and Education Sciences, the admission will consist of practical and skills tests.
Tuition and registration fees remain unchanged: 200 RON is the registration fee for all faculties, except for the the Faculty of Medicine, the study programme "Medicine" where this fee amounts to 250 RON; and the tuition fees range from 3,500 to 6,000 RON per year.
As in previous years, this time as well, the registration for the faculty will be done exclusively online, by filling in the registration form available on admitere.unitbv.ro
Registration is open until 16 July, and the results will be displayed on 21 July.
At this year's admission as well, Transilvania University of Braşov offers facilities to pupils with outstanding performance. Candidates who were valedictorians in high school, or who were members of Romanian Olympic teams and participated in international competitions, or who obtained an average grade of 10 in the Baccalaureate exam will receive for free a laptop and, if needed, dormitory accommodation and a meal per day in the canteen, throughout the academic year. In addition to these benefits, there are over 10 types of scholarships that all UNITBV students can benefit from if they have notable results or if they get involved and contribute to the University's activities.
All details on the admission conditions, the calendar or the documents required for registration are available on the site admitere.unitbv.ro.