Romanian-Jordanian
Conferences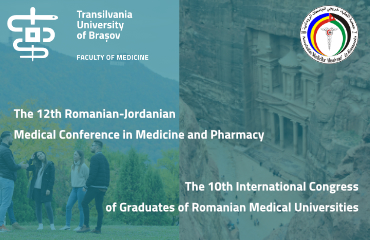 27-30 June 2022
From 27 to 30.06.2022, "Sergiu T. Chiriacescu" Aula of Transilvania University will be the venue for the proceedings of the 12th Romanian-Jordanian Conference on Medicine and Pharmacy and of the 10th International Congress of Medical Graduates.
This event, which has already become a tradition in our country, is organized by the Association of Romanian Medical Graduates, and it takes place under the high patronage of Her Royal Highness Princess Muna Al Hussein, President of the Jordanian Nursing Council and Patroness of the Organization of Nurses and Midwives for the Mediterranean Europe within the WHO.
Over 70 papers of general scientific interest will be presented during the conference by experts from all over the world.
We are convinced that this framework will stimulate the cooperation between the two countries, for the benefit of scientific progress.
You are welcome to participate, both in physical and online format.