Congratulations
to
the
valedictorians
of
UNITBV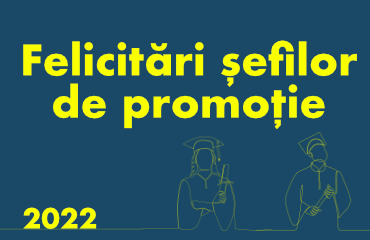 24 June 2022
Transilvania University of Brașov awarded its valedictorians from all the 18 faculties, this year as well. Those who obtained the best results and succeeded in completing the 3, 4 or 6 years of study with the highest average grade were applauded in a festive setting by the Rector of Transilvania University of Brașov, the Vice-Rector for students, the Deans of the 18 faculties, but also by their relatives, colleagues and friends.
Their work was rewarded with a small token of appreciation from the University – the amount of 1,000 RON and a few gifts to remind them of student life.
This year, Transilvania University of Brașov takes pride in 20 valedictorians: one student succeeded in completing the bachelor's degree cycle with an average grade of 10, and 19 students graduated with averages over 9. It is worth mentioning that at each of the Faculties of Mathematics and Computer Science, and Psychology and Education Sciences, two students graduated on a par with each other, having obtained the same average grade.
The 20 UNITBV graduates, valedictorians of the 2022 class, are:
Ovidiu IMBUZAN

Sociology and Communication

10

Andreea Daniela GHEORGHE

Product Design and Environment

9,94

Cristina Gabriela GAVRILĂ

Mathematics and Computer Science

9,93

Andrei George PASCALE

9,93

Maria PANĂ

Music

9,92

Toni Marian PERJU

Technological Engineering and Industrial Management

9,89

Gabriela ALEXANDRU

Psychology and Education Sciences

9,89

Raluca Victoria TUTOR

9,89

Monica Elena SIN

Materials Science and Engineering

9,87

Ana NIMERENCO

Economic Sciences and Business Administration

9,87

Maria - Gabriela RAȚ

Letters

9,84

Bianca Maria LUNGU

Physical Education and Mountain Sports

9,83

Radu Alexandru BEJINARIU

Mechanical Engineering

9,81

Andrei Ursachi

Furniture Design and Wood Engineering

9,80

Vasile Alexandru PETER

Silviculture and Forest Engineering

9,77

Sebastian PICU

Electrical Engineering and Computer Science

9,77

Ana Maria MANOLICĂ

Food and Tourism

9,74

Elena NEGOIȚĂ

LAw

9,71

Bogdan Radu NECULA

Medicine

9,68

Georgiana BANU

Civil Engineering

9,45
Along with the 20 valedictorians, Drăghici Gabriela Lăcrămioara, a student at the Faculty of Psychology and Education Sciences, was also awarded as the grantee of "Transilvania" scholarship of excellence. "Transilvania" scholarship of excellence is awarded annually by UNITBV to a single student who, during the academic year, has participated in national or international competitions, has been involved in activities or projects of the University, or has stood out at various other events. The value of the scholarship is 3,000 RON.
Moreover, during this event, the students who did the best papers in the scientific circle sessions were congratulated. Twenty students were awarded for their research work conducted this academic year.
The Gala of Valedictorians is an event that has already become a tradition for Transilvania University of Brașov.