The
UNITBV
students,
congratulated
by
the
Minister
of
Foreign
Affairs
of
the
United
Arab
Emirates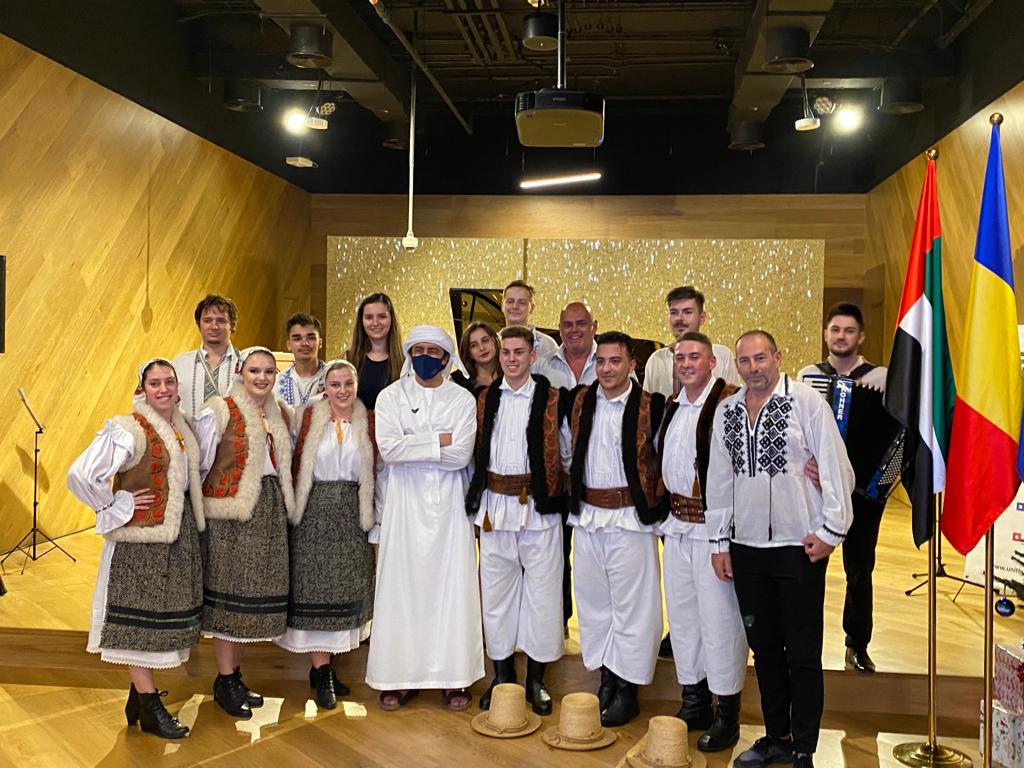 16 December 2021
The Romanian students who are currently at Expo Dubai 2020, in Dubai, on behalf of our country, have impressed the Minister of Foreign Affairs of the United Arab Emirates, Sheikh Abdullah bin Zayed Al Nahyan, the son of the founder of the United Arab Emirates.
The Emirati Minister visited the Romanian stand, where he even attended a mini folk show offered by the students from Transilvania University of Brașov. Moreover, the students holding craft workshops created a few traditional Romanian objects and offered them to Sheikh Abdullah bin Zayed Al Nahyan. He was extremely pleased with this gift, a token of appreciation, and he even wanted to take a photo with the students from Brașov, for whom he had only words of praise.
The Minister of Foreign Affairs and International Cooperation of the United Arab Emirates also had a meeting with the State Secretary for Interinstitutional Relations, Daniela Gîtman, and with the Commissioner General of the Romanian Section at Expo Dubai 2020, Ferdinand Nagy. At the end of the discussions, Sheikh Abdullah bin Zayed Al Nahyan thanked Romania and Transilvania University of Brașov for their involvement and presence at Expo Dubai 2020.
The Romanian Pavilion in Dubai is also represented by the students of Transilvania University. Along with other Romanian artists, overall, more than 50 students from Brasov have given and will continue to give folk performances and concerts, craft workshops, demonstrations of wood carving and engraving, or of traditional stitching and weaving, as well as presentations of the Romanian traditions and customs.
Between November and March, several students from the University of Brașov will be leaving in organized groups, presenting the visitors with constantly new workshops and demonstrations. So far, the Romanian pavilion, arranged and supported by the Ministry of Foreign Affairs has been visited by over 350,000 people.
World Expo, the greatest event of its kind in the world, takes place in Dubai, between October 2021 and March 2022. Expo Dubai 2020 is attended by over 190 countries and organizations from all over the world.